Tree packs are back! The Woodland Trust is urging landowners to tackle tree loss in East Anglia's Claylands by planting tree packs on their land.
Landowners within the Claylands (see map) can receive up to two fully subsidised tree packs this winter.
Each pack contains 50 saplings, including species carefully selected to best replace trees which are being lost to disease and preserve and strengthen the landscape against future threats. Tree protection is included.
East Anglia's Claylands cover large parts of Essex, Suffolk, and South Norfolk. Rates of tree loss are particularly high in these areas as new tree diseases have been introduced from abroad and extreme weather events have become more common. The Woodland Trust has been working with landowners and farmers since 2017 to create a more resilient landscape in the Claylands.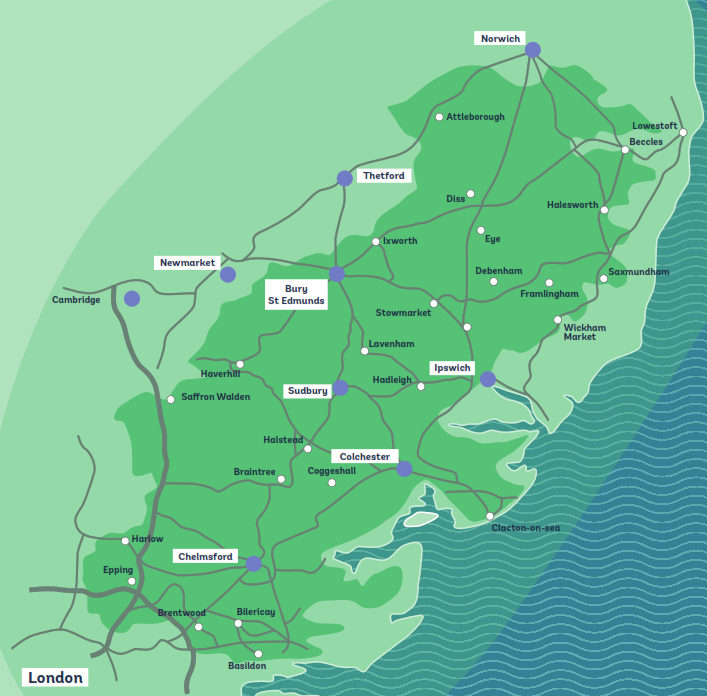 Planting new trees to replace those lost to disease is a critical part of this work. Many of the trees that have been lost are in hedgerows, boundaries, and copses. Up to 2 million more trees disappear from the landscape over the next 10 to 15 years.
Esther Rosewarne, Woodland Trust, said: "Tress bring so many benefits to farmland and are a key line of defence as we face more extreme weather in the future. They stabilise our soils, increase water infiltration, and benefit livestock and wildlife alike, all whilst locking up carbon. It is vital that we replace the trees we are losing to disease so that we can make our landscape resilient to everything that the future brings".
This season's tree packs are fully subsidised for landowners in the Claylands and are available at no cost on a first come, first served basis due to their limited availability.
Landowners in the Claylands area can request up to two packs of 50 saplings. These will be ready for collection on select dates in November and December. Pick-up locations include:
Need help with something else?
If you are in the Claylands, find out more about how we can help you with creating new woodlands, agroforestry, and restoring ancient woodland by contacting [email protected].