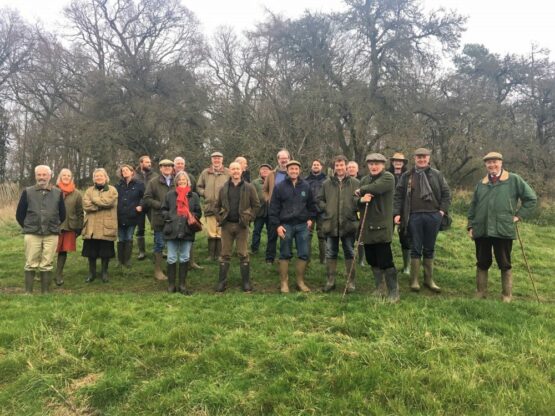 Stour Valley Farmer Cluster members on a tour of Bevills, near Bures
The Dedham Vale National Landscape & Stour Valley is all about partnership, we cannot achieve our primary purpose 'to conserve and enhance and enhance natural beauty' on our own.
We bring together and coordinate the activity of a wide range of organisations, communities and individuals.
These can include landowners, community groups, local authorities, parish councils, statutory agencies, businesses, nature conservation bodies, cultural societies, history groups, artists, tourist destinations and many more – all working together to make Dedham Vale a better place to live, work and visit.
Dedham Vale is essentially a farmed landscape characterised by rolling hills and gentle and gentle valleys, trees, riverbank willows, floodplain meadows, ancient lanes, traditional villages and farm buildings and meaning rivers. Dedham Vale National Landscape does not own any land itself so working with landowners is essential.
Landowners are custodians of our outstanding landscape and have great passion and knowledge to share. The Stour Valley Farmer Cluster farms 'Constable Country' with the aim 'to farm productively and manage the landscape in a way that is good for the environment, for biodiversity & for the community'.
If you would like to find out more about our work and see if you can get involved, we would love to hear from you.