Stour Valley Environment Fund:
Friends of East Town Park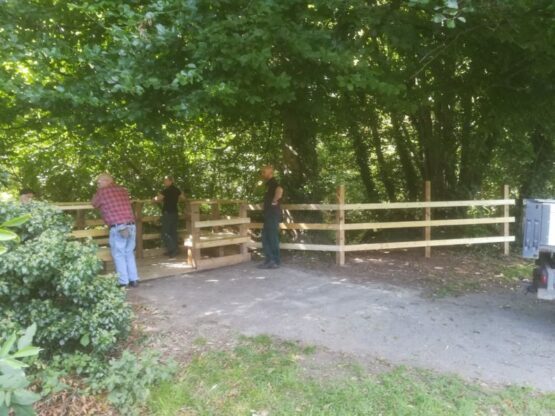 In 2020, Friends of East Town Park received a grant of £1,500 from the SVEF to pay for materials to replace the only fully accessible viewing platform of Stour Brook in East Town Park, located in Haverhill.
Friends of East Town Park aims to enhance their local park for the benefit of the whole community by improving the recreational, environmental, and educational facilities there, whilst also striving to promote the diversity
of its visitors.
At 38 acres, East Town Park is a significant destination as it is not only the centre for a network of footpaths that extent around Haverhill, but it also links up with the Stour Valley Walk which runs for 60 miles from Cambridge, through West Suffolk, to Essex, passing through the Dedham Vale.
Throughout the year the park sees regular daily use as well as seasonal visits from schools.
Community events such as Picnic in the Park and an Easter Egg Hunt and Halloween Walk are organised at great success with attendances between 1,000-2,000 people. This is all done with a key emphasis on preserving the local wildlife.
Due to this heavy footfall, it is crucial to ensure the safety and accessibility of the facilities available to the park's visitors, and through funding from the SVEF, Friends of East Town Park were able to achieve this. A grant of £1,500 allowed the group to purchase materials to replace a wooden platform and safety fence which had begun to deteriorate.
This regeneration project was kindly carried out by a team of experienced volunteers to provide a safe and fully accessible viewing point for East Town Park's visitors to enjoy the river.The work has been of particular benefit to Haverhill's residents during the pandemic lockdowns as it has provided a calming environment for those seeking it.
Now that restrictions have been lifted, it still proves to be popular location, as the groups Treasurer, Brain notes: "we have now found there are regular users now using it as a meeting area, and now as allowed, sitting with friends drinking coffee".