Stour Valley Environment Fund:
Witham Boys' and Girls Brigade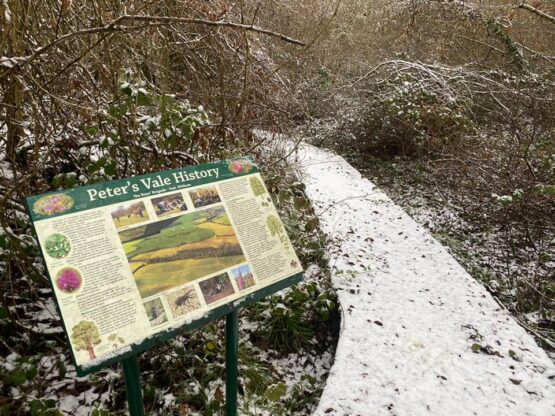 For the 2018-19 funding year, a grant of £1,400 was awarded to Witham Boys' and Girls' to replace a rotten board walk in Peter's Vale Twinstead.
This is a continuation of funding from an ongoing project which was first awarded a grant by the SVEF in the 2012/13 financial year when the group ran under the name 2nd Witham Boys Brigade.
They were awarded £2,500. Feedback from the group shows that "The boardwalk was successfully completed with the cost of materials covered by the ECF grant and with Boys Brigade members, volunteers from The Conservation Volunteer trust and, to a more limited extent the Dedham Vale Countryside Project.
Through TCV they also provided training on boardwalk construction, so 2nd Witham Boys' Brigade now have trained volunteers who can teach others to finish the final stages of other boardwalks.
100 people benefited directly by taking part, but many others benefit from using the boardwalks - 150 people so far. Future plans include replanting on the slopes of their field and the last piece of boardwalk to the lake wall.
"Peter's Vale in Twinstead is owned by WBGB and is an 18 acre site, an ancient broad leaf woodland of 11 acres and an arable field of 7 acres. Since 1988, they have sought, through partnerships with The Conservation Volunteers (TCV) and Kent University to conserve this site as an eventual nature reserve.
They have continued to maintain the forest as well as increase hedge laying plus the provision of a 1 acre lake, providing a water and bat habitat. 2,500 trees have been planted on the arable field to extend the forest area in years to come. The lane bordering their land is part of the AONB.
This includes half a mile of boardwalk through the forest and protected bog lands.This raised boardwalk has ensured protection of badger setts, and flora /fauna. The site has now reopened for the young people to attend and they are planning to host camping trips for the young members through the summer holidays.
As part of the camping trips the young people will learn about coppicing, conservation while also taking part in a low ropes course and bouldering. WBGB have now established a compostable toilet, portable kitchen unit and are fundraising to get fresh running water onto the site.This request is to help replace some of the boardwalk which has started to rot and become unsafe. There is now 300m out of the 800m total which needs replacing.
The Ford and site manager have done extensive research on this and decided to replace the wooden boardwalk with 100% recycled plastic decking boards. These cost approximately £28.00 per square metre and the total project will cost £8,400.
Although more expensive than traditional wood, the recycled plastic planks come with a 25 year guarantee however they are expected to last a lot longer than this. In the long term this will save costs on replacement and maintenance. WBGB are requesting a contribution towards these costs as the work can be done in phases.